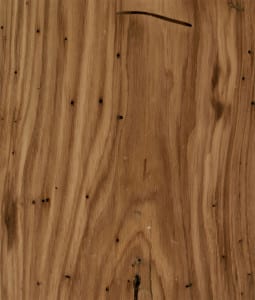 Wormy Chestnut is straight grained and strong as oak, yet easier to saw. Being rich in tannins, Wormy Chestnut is highly resistant to decay and therefore used for furniture, cabinetry, split-rail fences, shingles, flooring, and structural construction beams.
Although larger trees are no longer available for milling, we have Wormy Chestnut reclaimed lumber from historic barns to be refashioned into furniture, flooring, cabinets, and other woodcraft items.
"Wormy" refers to a grade of wood that has insect damage, having been sawn from long-dead blight-killed trees. This "wormy" wood has become fashionable for its rustic character.